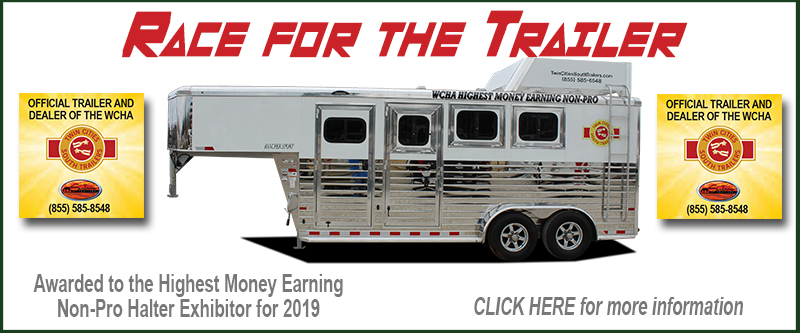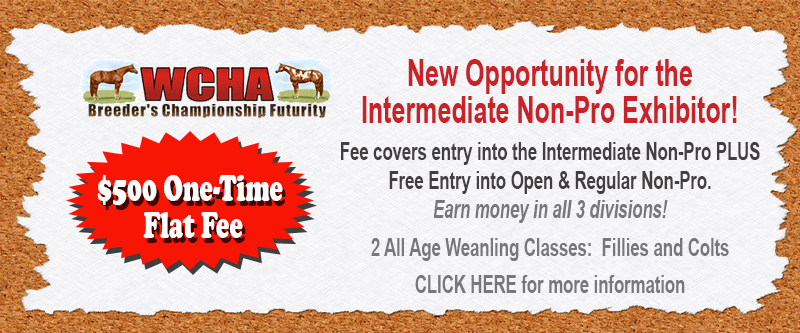 ---
WCHA Welcomes Back the WCHA World Championship
Junior Weanling Classes—With a Twist
Thackerville, OK— March 29, 2019 — The World Conformation Horse Association is proud to announce that they will once again be hosting the WCHA Junior Weanling Classes at the AQHA Lucas Oil World Championship in Oklahoma City, OK later this fall.
"Last year we had a wonderful response to our inaugural event," states Don Falcon, Executive Director of WCHA. "After seeing two really nice classes last year and then having the continued support of AQHA, we wanted to take these junior weanling classes to the next level."
The 2019 event will be offered as a Slot Class with 20 slots offered for both Junior Weanling Fillies and 20 slots for the Junior Weanling Colts/Geldings. Each slot can be purchased at $500 per slot, sold on a first come basis prior to July 1st, 2019. If there are slots still available after July 1st the fee will increase to $750 until September 15th, your weanlings do not have to be named until this date as well. A Junior Weanling is considered any weanling foaled on or after March 1, 2019. Slots can be reassigned or resold, anyone purchasing a slot in 2019 will have first right to purchase in subsequent years. Weanlings must be registered with AQHA and sired by a stallion nominated into the WCHA Breeders Futurity Program.
An additional "twist" to the format of the class is that the exhibitors must be a "Limited Non-Pro". "A Limited Non-Pro for these classes is defined as any Amateur or Youth exhibitor who has not won two (2) AQHA World Championship Titles in the last five (5) years," explains Falcon. AQHA Select World and AQHA Youth World Championship titles are exempt.
The 2019 classes will have $5000.00 added in each class thanks to the generosity of June Rhea, Kathy Smallwood and Valentino for the Junior Weanling Filly class. Terry & Stacey Kull, Kull Ranch is adding an additional $5000.00 in the name of their stallion, KR Hes Xceptional, to the Junior Weanling Colt Class.
"The support June and Stacey and Terry have shown WCHA is outstanding and we are so appreciative of them along with June's partner, Kathy Smallwood and Kull Ranch managers, Dave and Brenda Kellerman. If all slots sell and with the $10,000 in added monies we have the potential of a $30,000.00 purse for two classes, we now create a WOW factor for these Junior Classes in a great World Show venue," Falcon explains.
For more information about purchasing a WCHA Junior Weanling Slot please contact the WCHA Office at office@conformationhorse.com or continually check this WCHA Web Site for updated information.
For More Information on these two WCHA Junior World Show Classes contact: Don Falcon falconranch@earthlink.net.
Thank you to all the trainers who donated their services and to everyone who purchased one of these great Trainers. The Online Trainers Auction was a huge success generating over $17,000.00 for The WCHA!
---
---
WCHAadmin
Thackerville, OK — May 3, 2019 — The World Conformation Horse Association (WCHA) is thrilled
WCHAadmin
Due to the delay in AQHA processing foal registrations we will allow foals with "proof of pending registration
WCHAadmin
Thackerville, OK — April 4, 2019 – Always striving to "think-outside-the-box," The World Conformation Horse Association (WCHA) will
WCHAadmin
Thackerville, OK - March 14, 2019 - The World