BREAKING NEWS !!!!!
In Our Efforts To Showcase The Athletic Abilities Of Our Form To Function Conformation HorsesWCHA IS PROUD TO OFFER NEW PERFORMANCE CLASSES FOR 2021
OVER $22,500 ADDED MONIES TO THE PURSES
These Stakes Classes Will Be Held During The WCHA Breeder's Championship Show
Fort Worth, Texas – Sept 28, 29, 30 – Oct 1, 2
The DAC Yearling Longe Line Futurity – $5,000 Added Money
• Class Sponsor Dac Equine Supplements, WCHA Corporate Partner
Three Year & Over Ranch Versatility Stakes – $5,000 Added
• Class Sponsor Erhardt Quarter Horses, WCHA Association Partner
Two Year Old Ranch Pleasure Stakes – $10,000 Added
• Class Sponsor Steve and Kathy Headley, WCHA Platinum Members
All of the above classes will have both Open and Non-Pro Divisions. Each Stakes Class will have a Conformation Class within the competition.
Added Incentive:
• Those who raise and show their own will have Owner Breeder Exhibitor (OBE) Incentives!
• Entry Fees will be cost effective!
We want participants to showcase the athletic abilities of our WCHA Bred Horses. All entries must have Halter Bloodlines and be sired by a stallion that is currently or was previously nominated into WCHA Breeders Program.
For additional information on the WCHA Performance Classes Contact:
Anna Horn – Versatility Committee Chairperson, annahorn78@yahoo.com
Don Falcon – Futurity Manager, touchdownkid95@gmail.com
To Be Eligible For Competition Within These New Classes All Horses Must First Be Nominated!WCHA is now offering a Second Chance opportunity for those horses that failed to purchase a "regular nomination in 2020" to compete in WCHA with a "Performance Only" Nomination this year.
What's the difference?Those that purchased a regular nomination in 2020 are eligible to compete in both halter and performance events in 2021 if WCHA enrollment is maintained. The Performance Only Nomination program will make your horse eligible for competition within the lucrative new stakes classes WCHA is offering:
• Yearling Longe line
• Two Year Old Ranch Pleasure
• Three and Over Ranch Versatility
Click on the document or form name below to see/print it
For additional information on these longe line and performance classes contact:
WCHA Futurity Coordinator: Don Falcon ph. 480-229-9767 or Email: touchdownkid95@gmail.com

Thank you to our Sponsors!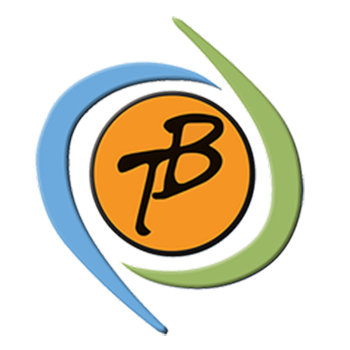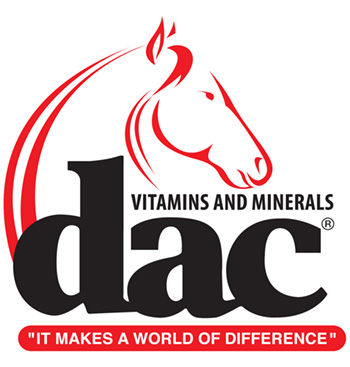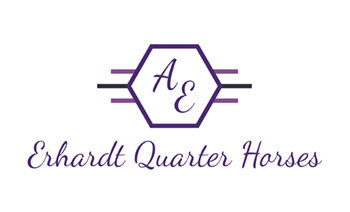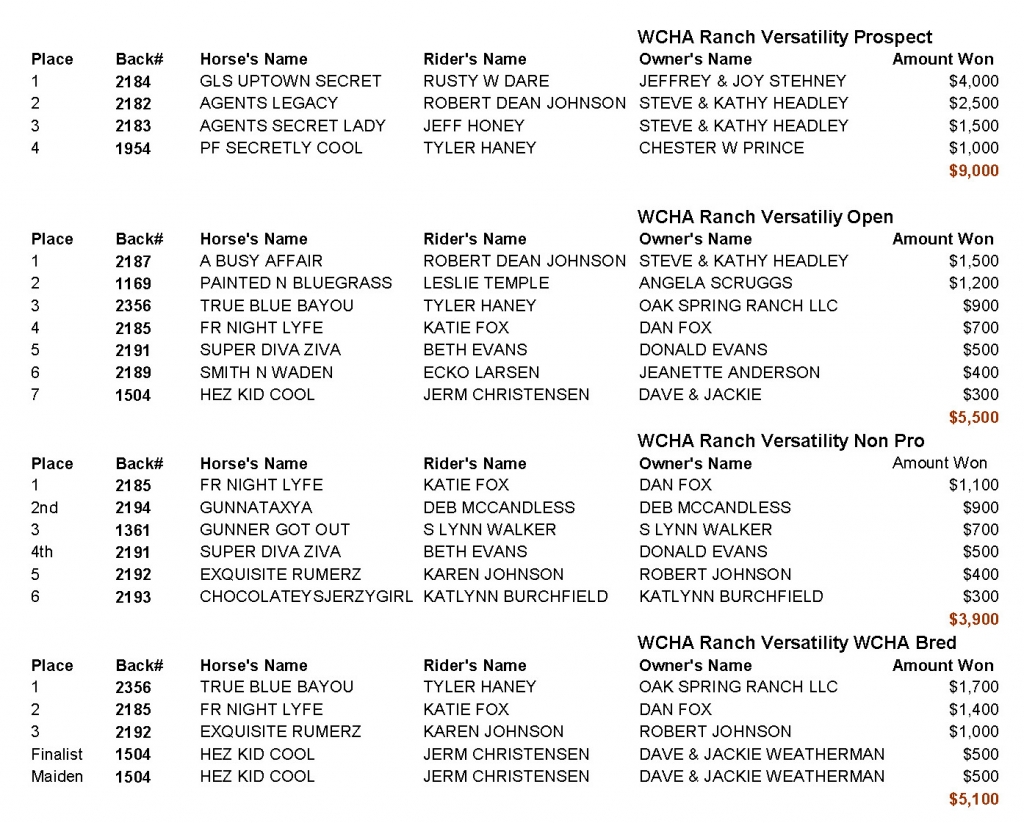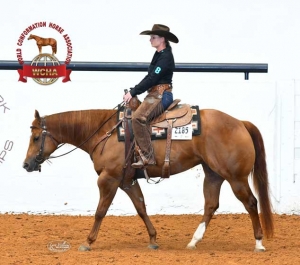 FR Nite Life and rider Katie Fox
Three and Over Non Pro Class winner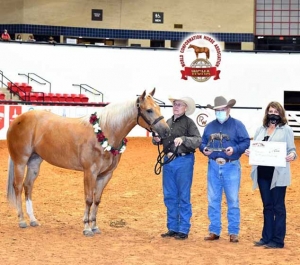 A Busy Affair with rider Bob Johnson
Open Three and Over Versatility class winner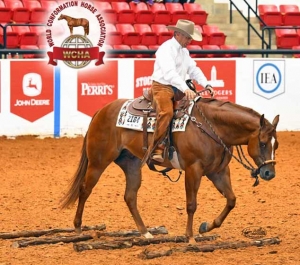 GLS Uptown Secret and rider Rusty Dare
Two Year Old Prospect class winner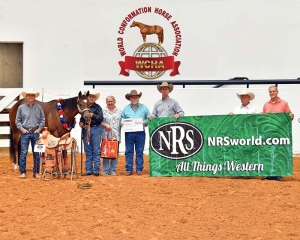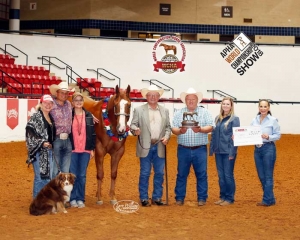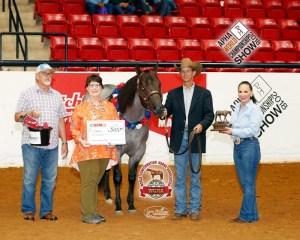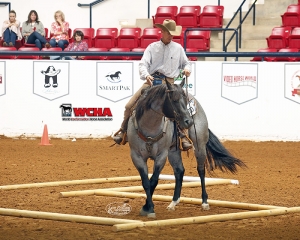 All Age Ranch Horse Versatility Stakes
1. Gotta Hot Gun
– Exhibited by Karen Johnson
– Open $2500
– Non Pro- $1000

2. FR Night Lyfe
– Exhibited by Katie Fox
-Open $1,700
– Non Pro- $750
– Maiden – $600
– WCHA Bred – $2000

3. Kiddie Mays
-Exhibited by Mike Major
– Open -$1200
– Maiden- $450
– WCHA Bred- $1500

4. A Busy Affair
– Exhibited by Bob Johnson
– Open- $750


5. Employed By Jeffaroy
-Exhibited by Marty Simper
– Open -$500
– Maiden – $300
– WCHA Bred – $1000

6. Asocial Dream
– Exhibited by Kristy Smith
– Open- $350
– WCHA Bred -$700

7. Gunner Got Out
– Exhibited by S Lynn Walker
– Non Pro – $500

8. Diversified Fella
– Exhibited by Natalie Barnett
– Non Pro – $300

9. OOO Tell Me A Secret
– Exhibited by Ricky Young
– Non Pro – $200

10. Mind Keeper
– Exhibited by Coltin Crystal

11. Storminthemoutian
– Exhibited by Steve Tidwell
– WCHA Bred – $400
WCHA 2-Year-Old Prospect Class
1. Rumerz Fly
– Sired by Rumerz
– Exhibited by Bob Johnson
– $3000.00

2. Exquisite Rumerz
– Sired By: Rumerz
– Exhibited by Karen Johnson
– $2500.00



3. FR Rockstar
– Sired by: Intersection
– Exhibited by Marty Simper
– $2000.00


4. TB Awesome Initials
– Sired by Initials Only
– Exhibited by Heather Young
– $1500

5. Initialize
– Sired by Initials Only
– Exhibited by Scott Weiss
– $1000


6. Simply Statutory
– Sired by Statutory
– Exhibited by Kristy Smith
– $500

7. Stylish Secret Agent
– Sired by Heza Secret Agent
– Exhibited by Colton Crystal
– $250