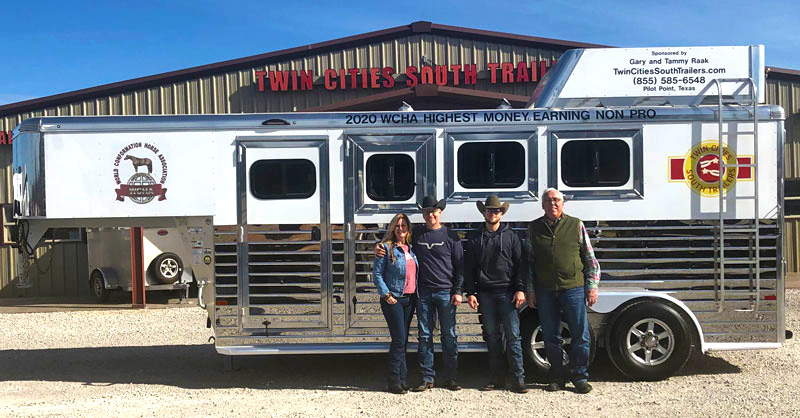 Amy Page, Chris Page, Eli Page & Gary Raak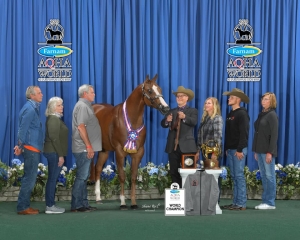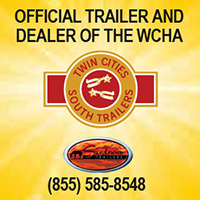 What an amazing year for my family," says Chris in describing his year competing within WCHA events to win the use of a new trailer for a year. "With so much uncertainty whether we would even have our fall halter events, my family and I were blessed with incredible futurity contenders this year, and then to top it off with winning a new trailer will be a year to remember! I want to thank Twin Cities South Trailers and owners, Gary & Tammy Raak for providing such a prestigious year-end award." We LOVE competing within WCHA!"
Chris and Amy Page, along with their three sons, Zach, Eli and Isaiah reside on their family ranch just outside Collinsville, TX. The Pages have been great competitors, breeders and truly fit the description of successful "do it yourselfers," as they breed, raise, and prepare their own horses and compete as Non-professionals in major halter futurities with quarter horses, paints and appaloosas.
In 2000 the Page's purchased their first halter horse, twenty years later they've come a long way but working together as a family they appreciate how raising and showing halter horses has kept them united in their goals.
All monies earned by non pros in WCHA approved shows count throughout the year. Coming in a close second place was Robin Robinett from Brazil, IN. The overall final results are listed below.
Looking to purchase a trailer? Get your best deal at Twin Cities South Trailers.
###
For More Information on The Race for the Trailer contact:
Don Falcon
touchdownkid95@gmail.com
2020 Race for the Trailer Non Pro Earnings
CHRISTOPHER PAGE – $24,040
ROBIN ROBINETT – $22,521
DR GIGI WOOD DAVIS – $20,186
LONN SMALLWOOD – $17,425
ADAM MATTHEWS – $15,867
ELIJAH C PAGE – $15,503
MARK D NIEBRUGGE – $14,221
JAMES L. TAN – $13,164
ANASTASIA KULL – $12,756
VICTORIA L HOYT – $12,495
ANTHONY BLADEN – $12,395
GEORGIA SNOW – $12,195
KATHRYN MITCHELL – $11,877
KARRY VOSS – $12,118
NATHAN J MILLER – $11,057
KIM ANDING – $10,813
JAMES MELVIN KIFE – $10,763
JOY STEHNEY – $10,121
GREG DAVIS – $9,893
SUZONNE FRANKS – $9,856
KAYD T BYERS – $9,753
DAVID BECK – $9,047
ISAIAH S PAGE – $8,620
SHELLEY D GRISSOM – $8,192
CHRIS TABLER – $7,630
KENSY G MAXWELL – $7,495
NANCY E DYER – $7,282
ANNA FINKENBINDER – $7,177
CARA MCMILLIAN-GIBSON – $6,802
JULIE C SMITH – $6,733
KEN P BERRY – $6,634
SUSAN VOEGELE – $6,006
ANDREA OLSEN – $5,689
RICKY D YOUNG – $5,543
PETRA CRUSE – $5,260
PATRICIA ELLSWORTH – $5,247
KATIE FOX – $5,144
SHIRLEY MCCARY – $5,000
BEVERLEY SHARP – $5,000
BEV HENRY – $4,843
AMANDA M WALLINGER – $4,754
SARAH HEADLEY – $4,167
KALE EVERSULL – $4,094
MAXIMUS SANTOS – $4,053
SHERRI BAKER – $3,766
STEVE BAKER – $3,749
SUSAN DARR – $3,574