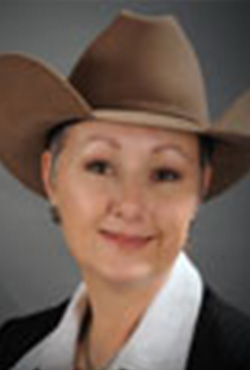 Home:
Brenham, TX
Occupation: Horse Trainer
Cards held: APHA, APHC, PtHA, WCHA
Shows Judged:
APHA Yth World, Dixie Nationals, California Classic, Western Regional Zone II, Idaho Supreme Classic Zone I, Western Paint World.
Activities & Accomplishments:
Through our training center, we have bred, trained and shown multiple World and Res. World Halter Champions, and Honor Roll Halter Winners. We have currently promoted our stallion onto the Leading Sire's List of halter winners, and halter point earners for the 6th year. Activites I enjoy are creating artwork with pen and ink, water color, and photography, as well as reading and cooking.
College: I've worked as a trainer since graduating high school.
Contact Info:
Christina Price
Brenham, TX
Phone: (979) 836-0636
Cell: (979) 421-3890
Fax:
Email: tina5123@sbcglobal.net
Website: