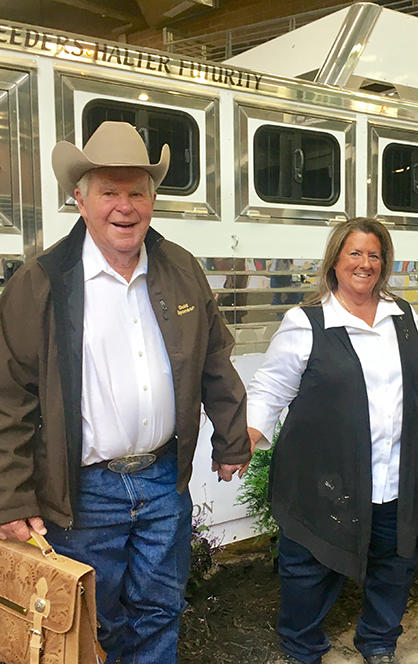 July 11, 1940 ~ March 27, 2018
WCHA Founder & Legendary Horseman
Legendary Halter horse breeder and horseman, Gary Gordon, passed away March 27th, 2018, after an extended hospital stay.
As a young Canadian, Gary rode saddle broncs. He later traded that career to train horses for Halter, Western Pleasure and Reining events. In addition, Gary sold real estate, specializing in farm and ranch properties in Canada. Gary ultimately continued training horses in Germany for another three years.
Gary met a lady who caught his eye at a horse show in Lufkin, Texas. Thus began a very romantic, long distance courtship between Gary and Linda Thompson. He proposed to Linda while still training in Germany. They were married on December 9th, 1995.
Along with his wife Linda, Gary was the owner of Fossil Gate Farms in Argyle, Texas. Fossil Gate Farms is a family operation that has produced numerous World Champions during a 30 year time period in Argyle, Texas. Gary realized his dreams of owning a number of well known and well bred stallions that stand publicly, as well as to the impressive band of broodmares he developed over the years. These horses promote Paint, Palomino, Buckskin, Quarter and Appaloosa bloodlines at their finest. From these breedings, Gary and Linda have won 192 World Championships, while Fossil Gate Farms has produced many more for their customers. Gary had a special relationship with one stallion in particular, Mr Yella Fella, who was the 2016 Palomino Horse Breeders of America's Hall of Fame inductee.
Gary was a Founding Member of the World Conformation Horse Association, serving on the Board for three years and on the Judges Committee.