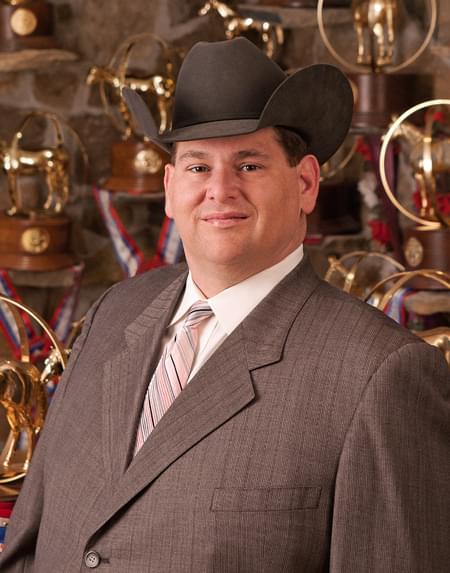 In Memory Of Peter J. Cofrancesco, III
Left this earth August 1, 2017
WCHA Founder & Past President
Peter, to you we owe a debt of gratitude, for all your leadership in the horse industry, especially the initiation of WCHA and all of your tireless work. Most importantly, thank you for your friendship. You will be forever missed and forever remembered.
Born in Paterson, N.J., Peter had resided for most of his life in Sparta Township, N.J. A graduate of the Pope John XXIII Regional High School-Class of 1989, Peter had also attended the Delaware Valley University as well as receiving his honorary doctorate from Centenary University.
Owner of the Grinnell Companies of Sparta, Peter was a dedicated member and past president of the American Quarter Horse Association, where in March 2017, he was inducted into their Hall of Fame. A leading exhibitor with the American Quarter Horse Association, he was the world champion 18 times as well as a record holder. Mr. Cofrancesco was the youngest and longest standing member of the N.J. Horse Racing Commission. He was also a member and past president of the N.J. Quarter Horse Association as well as past president of the American Quarter Horse Youth Association in 1990. In addition, Peter was a founding member of the World Confirmation Horse Association.
In his youth, he enjoyed playing football and wrestling for both Pope John High School and Sparta Elementary School. A former board member for both Newton Memorial Hospital and the Sussex County Community College Foundation, Peter was a loving and devoted husband, father, son, brother and friend to many. He was an ardent supporter of his children's activities and sports teams as well as a generous philanthropist through the community.
Mr. Cofrancesco will truly be missed by all who knew and loved him. Predeceased by his father, Peter J. Jr., in 2001; his maternal grandparents, Nicholas and Margaret Fierro; and his paternal grandparents, Peter and Florence Cofrancesco, he is survived in life by his beloved wife, Carmen (Welker); his daughters, Ireland and Emma; his son, Peter IV; his loving mother, Peggy, of Sparta; his sister, Daria and her husband, Ron Koester of Sparta; his brothers, Jason of Sparta and Jarrod and his wife, Roey, of Ogdensburg. Also surviving are many aunts, uncle, cousins, nieces and nephews. In lieu of flowers, memorials in Peter's memory may be made to the Pope John Angels Fund, 28 Andover Rd., Sparta, N.J. 07871.